Team Voice is a startup determined to solve the problem of employee turnover. From their own experience as employees, the founders saw the challenge of employer-employee feedback. Often the first time a manager realized an employee was unhappy at work was when a notice to terminate employment landed on their desk. Because traditional methods that companies used to gauge employee engagement did not work, the founders decided to tackle this problem themselves.
Design and build a web platform so that HR professionals can easily create and send surveys, and analyze the results quickly.
Responsible for strategy, design, and validation, and partnered with an expert to take care of technical implementation.
Disclosure: I was a co-founder of Team Voice.
Value Proposition Development
Competitor Analysis
Surveys
Personas
User Interviews
Task Flows
Prototyping
Usability Testing
UI Design
Logo Design
Omnigraffle
Photoshop
Illustrator
Invision
Business Model Canvas
During fifteen years at large and small companies I observed that when my colleagues gave notice it was often a surprise to their managers. Investigation revealed that discontent grew over time and then, at a critical point, the employee decided to leave.
A typical scenario of those who leave consists of three stages: During the 'Romance' period, the employee is very engaged and willing to put everything they have into their work. As frustrations go unaddressed and the employee learns more about the company's imperfections, engagement peeks and turns downward.
The 'It's not too late' stage depends on factors like the employee's patience, self-esteem, and incoming recruitment offers, and can last from as little as several months to as much as a few years. If, during this time, the employee doesn't see any positive change, hopes and engagement levels diminish until a tipping point is reached and the 'You've lost them' stage commences. Now it seem that nothing will restore damaged engagement or prevent the employee from leaving. Often the employer will attempt to retain the employee by offering more money, which rarely helps and the employee leaves within a year.
Talking to a lot of my friends and colleagues made me realize the magnitude of this phenomenon. A challenge for employers today is to keep employees engaged and reduce turnover because it costs less to prevent employees from leaving than it costs to replace them. Compound this with indications that Millennials are less tolerant when frustrated at work, and are much quicker to move on.
I started with looking at the competitor landscape. HR is a multibillion dollar market, and there are plenty of big and small players. From a standard survey software to a complete end-to-end solution for HR department. The majority of the software specializing in employee feedback was quite expensive and tailored towards enterprise, which made it hardly affordable for smaller companies and startups. One of the most popular methods to gather employee feedback was annual employee engagement survey, which usually consisted of up to a hundred of questions and had quite a poor user experience. However, there was a new type of employee surveys offered by new players in this market – pulse surveys, which were much shorter with just a few questions and were conducted more regularly.
The emergence of the new HR software that was offering new and more agile ways of gathering employee feedback was aligned with the growing Millennial workforce and their technology expectations. But looking at the majority of the software on the market it was obvious that it was designed a decade ago when a company could get away with bad user experience due to lack of competition. In addition to that, the survey results would come back to the employer weeks or months later, which sounds ridiculous considering the age we live in and that everything is real-time now.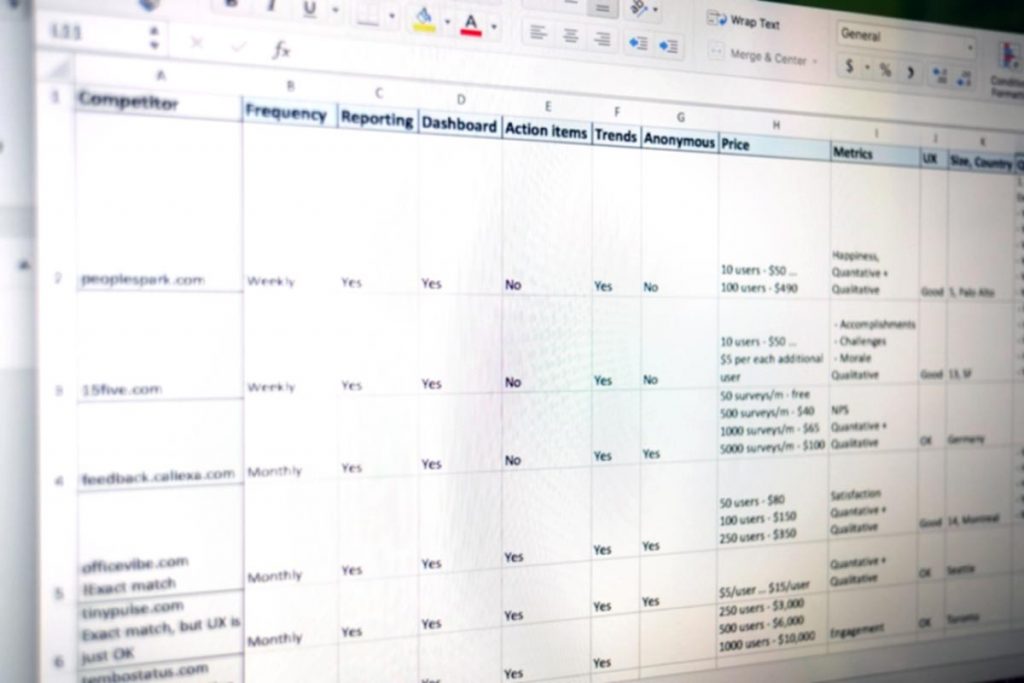 Analyzing the competitors' offerings made me believe that there was an opportunity – a simple and easy to use self-serve survey platform that provides instant results at an affordable price. It had to be super simple to minimize the time that an HR professional would need to create and send out the survey. Software as a service (SaaS) was chosen as the business model primarily due to the benefits of the recurring revenue. This meant we needed to understand and define the value that the service would provide and come up with several pricing tiers depending on the company needs. In a nutshell, the platform had to allow a potential client register a new account, create a survey using a pre-existing template, and analyze the results in real time using the dashboard. In order for the new product to stand out from all the competition and be super simple to use, we decided to use just one single question for the quantitative measuring and one optional open-ended question to provide any additional comments. Using the rating question would allow us to calculate the overall score to provide an understanding of how things are going in the company, and track changes to this metric over time. The comment would provide an opportunity for the employees to share their thoughts, which would result in the list of action items for the HR team. The perfect match for this structure was Net Promoter Score (NPS) and we decided to go with just one metric for the first phase – loyalty.
I made a few quick sketches of the dashboard and went to talk to 5 HR professionals to ask them about employee retention and how they address the challenge of keeping employees engaged. I received a lot of great feedback and ideas, and one thing I've heard from everyone (besides that employee retention is a big problem for them) was that using just one metric wouldn't be enough. I've heard this loud and clear, and decided to go back to the drawing board and expanded the scope to 3 key metrics – loyalty, happiness, and productivity.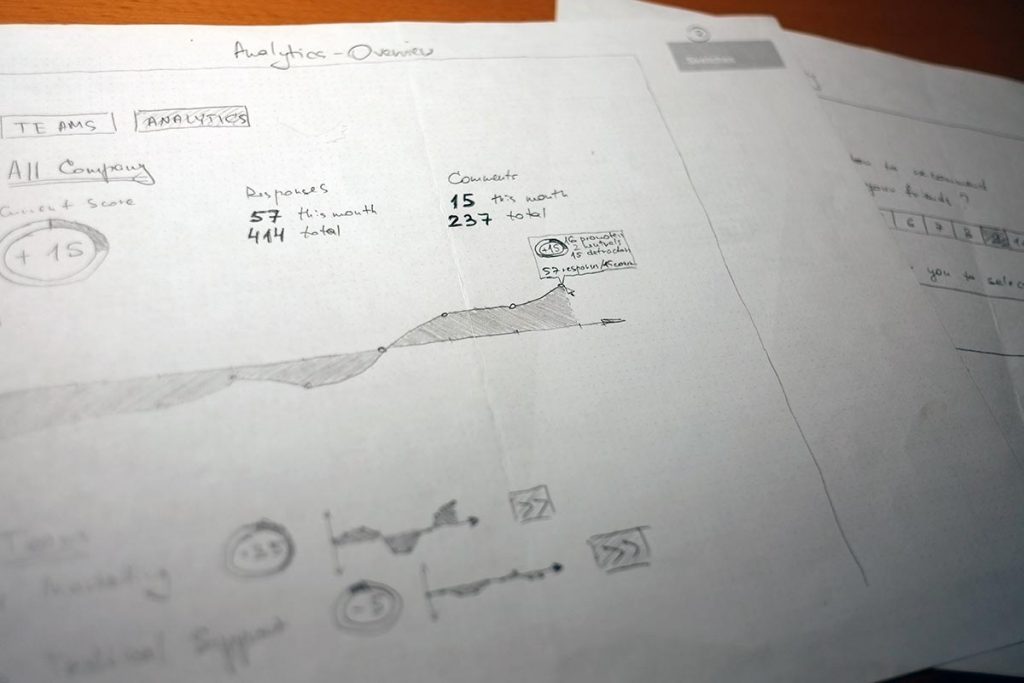 I live by a quote from Steve Jobs: "Focusing is about saying no."
Next step, is to look at the whole market and choose a segment that is small enough, so we can get in it, and that is a part of a larger market, so we can scale later.
With all my learnings from online research, attending a few local HR events, and speaking with several Human Resources professionals from companies of different size, I realized that even though they all had the same problem and vision, the day-to-day needs and work environment was quite different depending on the size of the company and their industry. Large organization had much higher expectations of data and the number of services they wanted to see in their HR tools vendor, which we could not offer from the start. Also, their budgets were bigger and they could afford more complex and all-in-one type of solutions, which would take us a few years to grow to. From the other side, these big enterprise solutions were quite expensive and only larger companies could afford them.
As for the industry, the tech sector seemed as the most appealing start. It had seen rapid growth in the recent years with increasing number of new companies, or new initiatives inside the more established companies. Usually, newer companies and startups are more open to the innovative tools and new solutions to old problems, so it made this audience a good fit for the early adopters segment we were looking for.
In addition to that, large companies from the US had entered the local market in the war for talent. It had become even more important for local companies who could not compete with the compensation levels and number of perks that those giants were offering.
And the last dimension – geographical area. We decided to focus on the local arena and start with Vancouver area (Canada). Benefits: easier access to our target audience, due to my existing network of tech professionals and close proximity. During the initial phase of building a product and validating value proposition I prefer to have more in-person conversations to get more qualitative feedback.
I reached out to my network and connected with 10 HR managers and directors who were or had been working in small and medium-sized tech companies, which was the target audience we were aiming for. My objective was to understand their problems, the way they think, how they make decisions, how they prioritize, and what their stories were. So, the questions I was asking were focused on the qualitative feedback (e.g. "Describe me your typical work day", "When was the last time you conducted an employee engagement survey? Talk me through your flow", "What did you do with the results?"). After 2 rounds of in-person and phone interviews I had 10 pages of notes with very valuable input from real prospect users.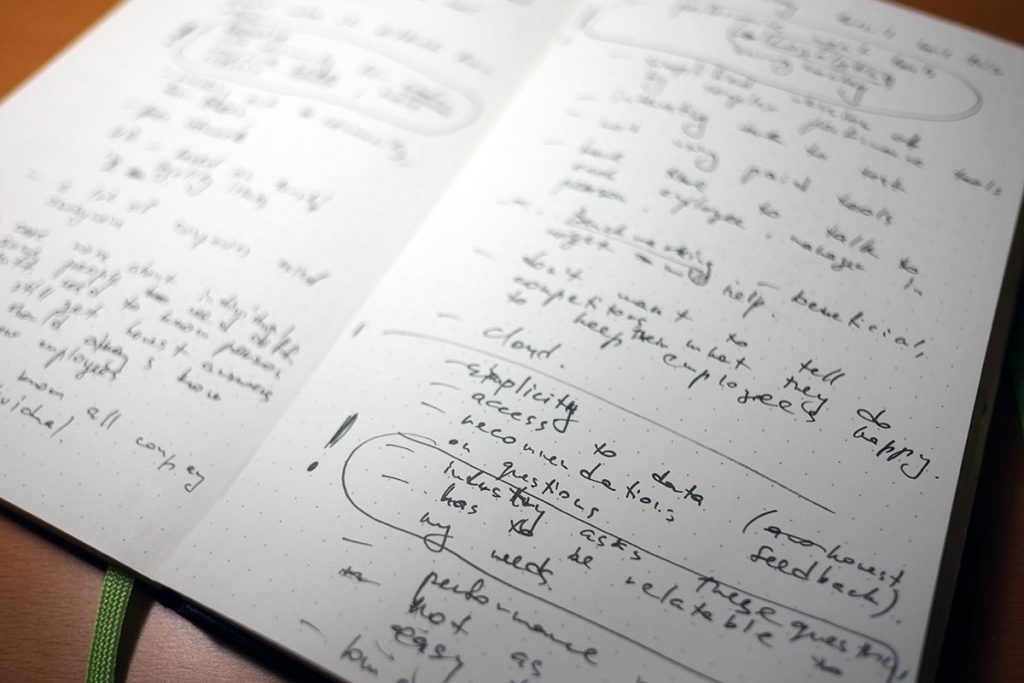 Based on the discovered insights and observing some the same repeating daily challenges and needs, I created only one persona. Usually, you would want to have at least 2-3, but with this product the target audience was very narrowly defined on purpose.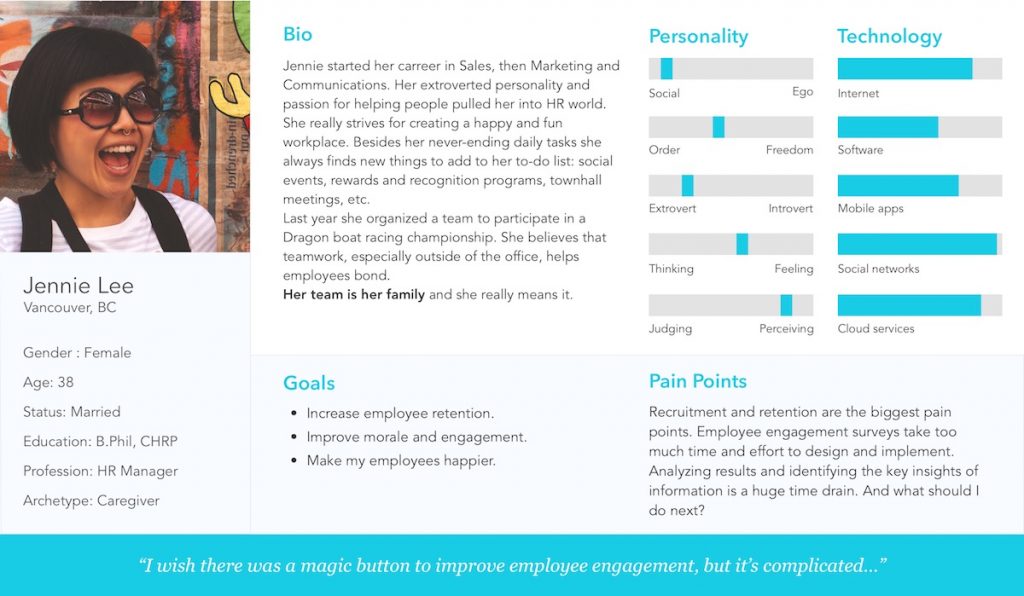 Before starting with task analysis I like writing a few scenarios that help me understand the thinking and motivations of my target users, and the context that brings them to the website.
Scenario 1
It's been a rough year for Jennie, the company's headcount has shrunk by 10% during the first two months. CEO asked her to measure employee engagement to understand how badly these changes impacted the staff. Jennie tried traditional employee engagement surveys in the past, but she needs answers as soon as possible, and she can't wait two months to get them, so she googles for "quick employee engagement surveys" and stumbles upon our site's landing page, which illustrates key advantages of our solution and pricing information. She decides to give it a try, considering she can start for free. She creates a new account and starts creating a new survey within 1 minute.
Scenario 2
As it often happens, after attending another global HR conference Jennie is full of ideas and excitement about the future of the workplace. Everybody is talking about this new trend – getting employee feedback frequently and using much shorter surveys, not like the long, tiring, and very expensive classical annual engagement surveys. Jennie finds several potential solutions, but they are all US-based with no presence in her hometown, except for our company. She really likes to have in-person conversations, and being a big proponent of local businesses she registers a new account on our website.
Using scenarios as the foundation for the task analysis, I came up with this list of the most important task for Jennie:
Create a new account
Log in with existing account
Reset password
Create a new survey using a template
Create a new survey using custom questions
Edit existing survey
Archive existing survey
Copy survey URL
View survey details
View overall company dashboard
Preview survey
Preview survey template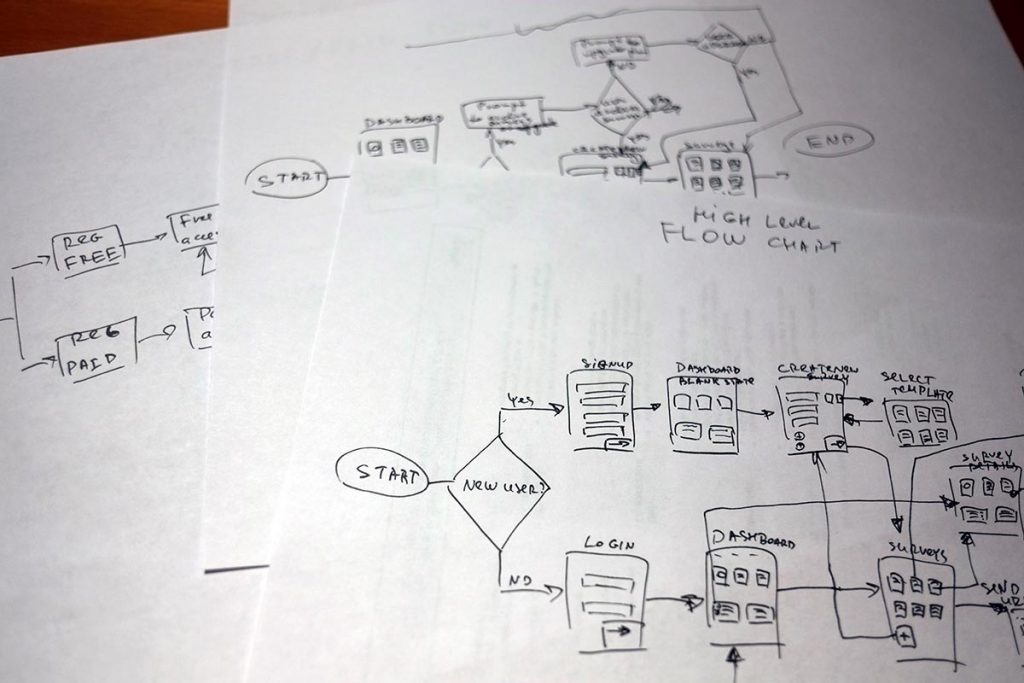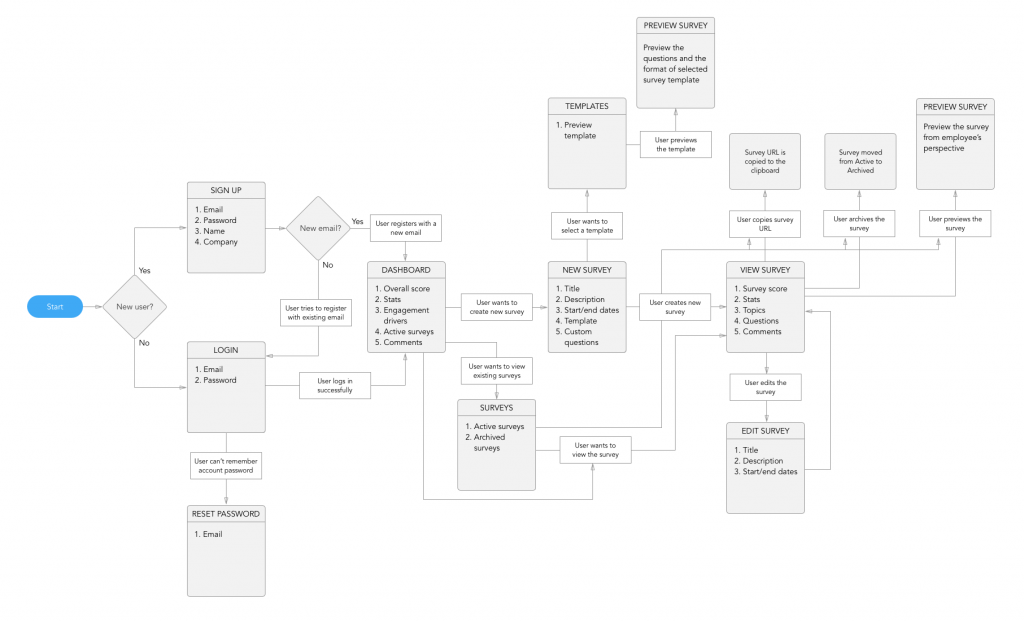 Pen & paper are still my most used tools (after the brain, of course). A few dozens of paper sketches just to crystallize the screen layout and visual hierarchy, and I am ready for the digital prototyping.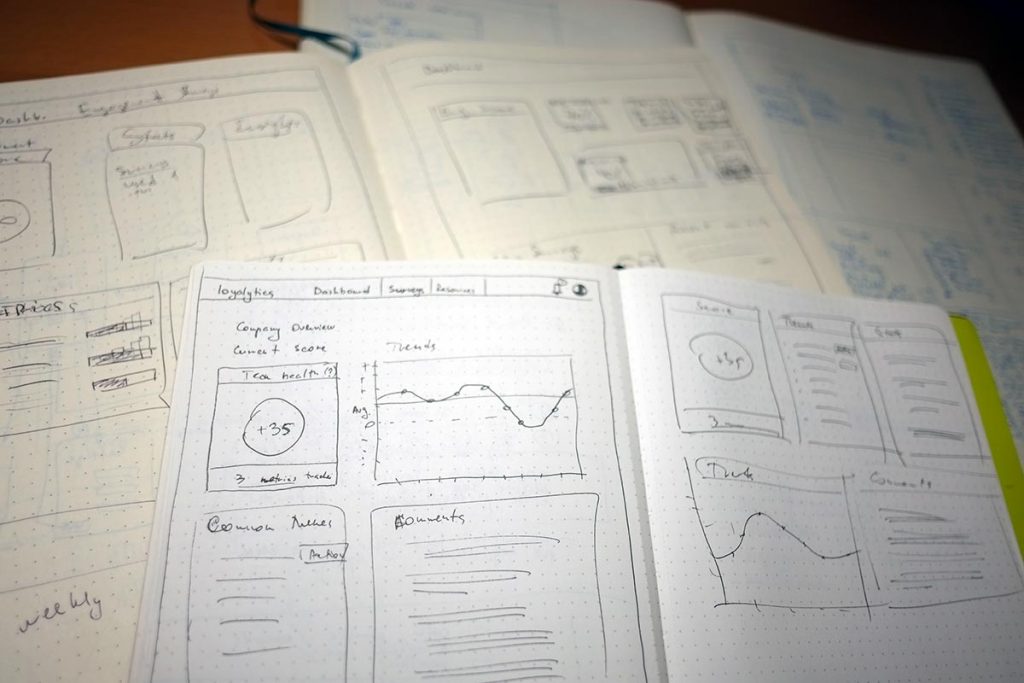 Considering the simplicity of the interface, the fact that I was the same person who was doing the visual design, and the objective to start testing with users asap, I decided to skip the wireframes and went straight to mockups. Then, I used Invision as the prototyping tool, where I uploaded the mockups and set up hotspots to create user interactions for each screen.
With this product, the strategy was to do a lot of testing, so I decided to save some time for the first version, and took one of the free UI kits and within a couple of hours had the first clickable prototype ready. Then, I tested it with 5 users from my target audience, and the overall response was very positive.
After validating the high-level concept in a digital format, for the next versions of the prototype I mocked up screens using custom UI, testing and iterating the prototype several times before implementing the functional MVP version of the product. And then, again testing and iterating, testing and iterating, adding new features and improving usability to match users' needs.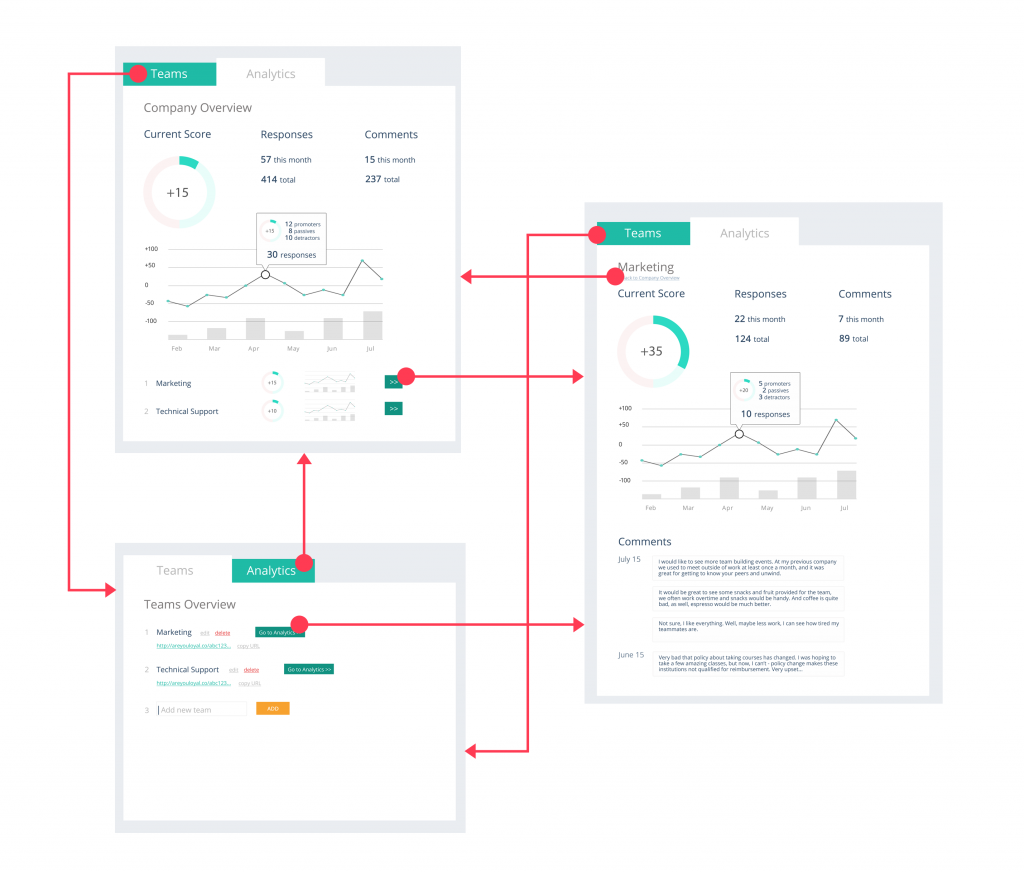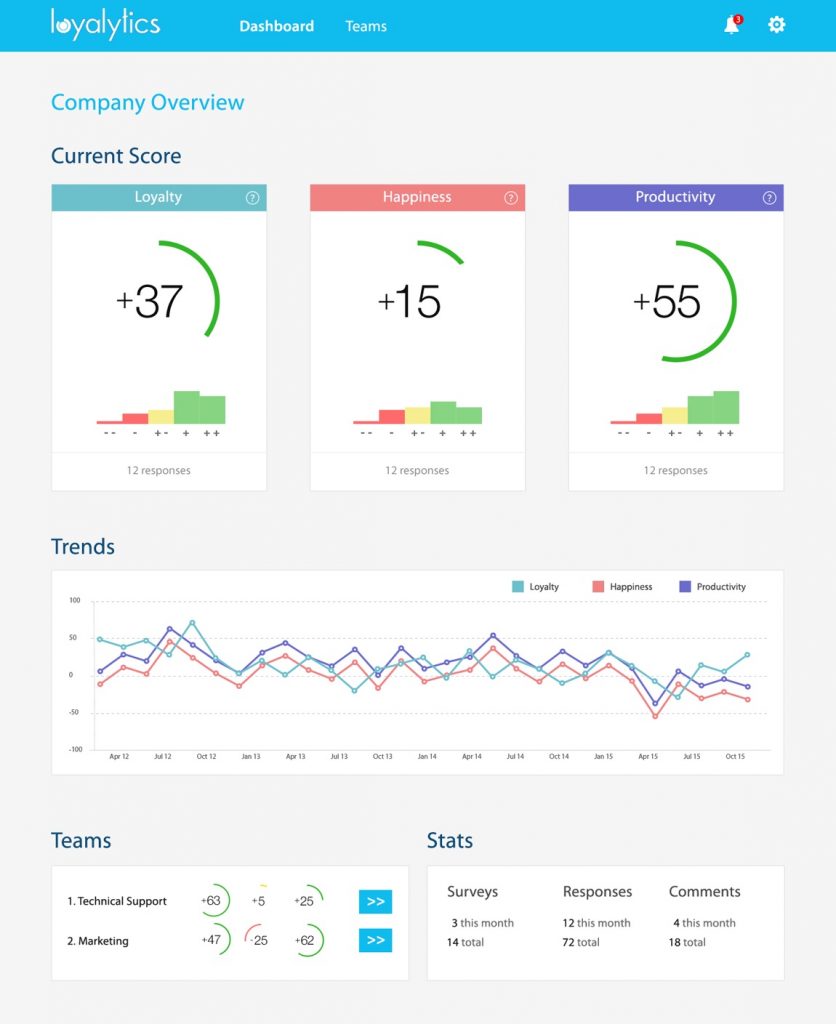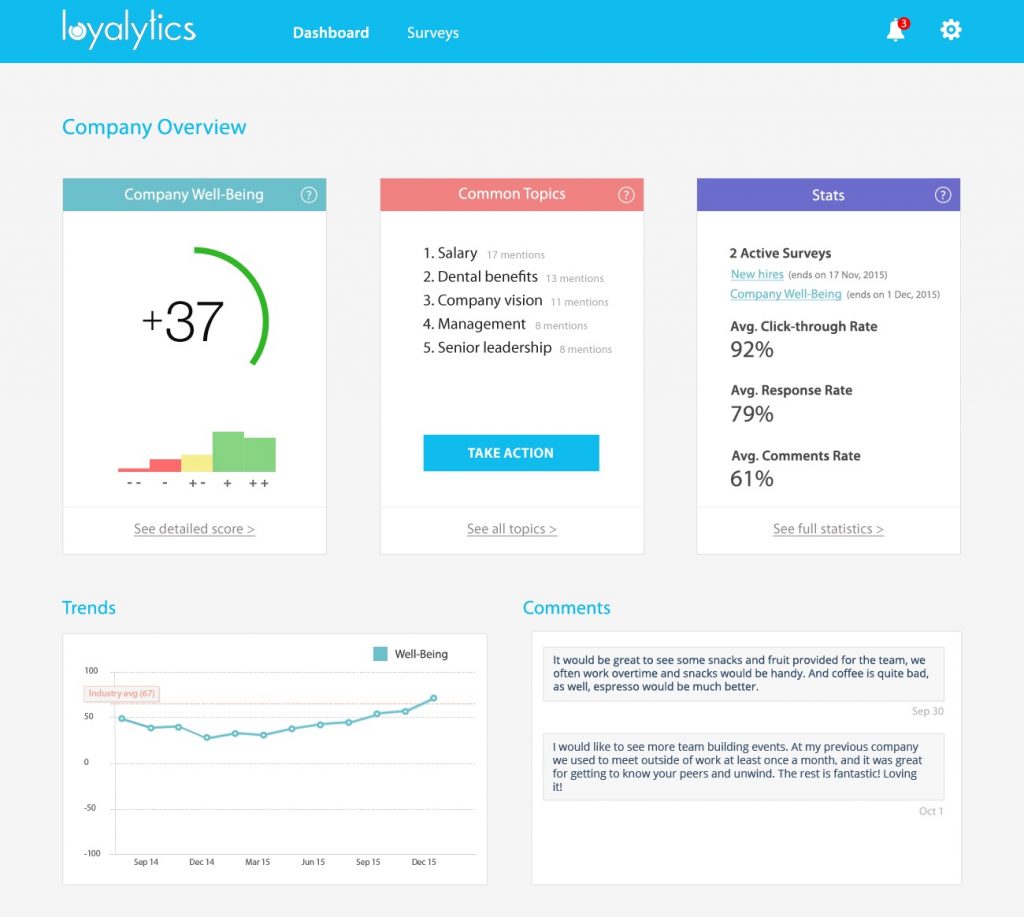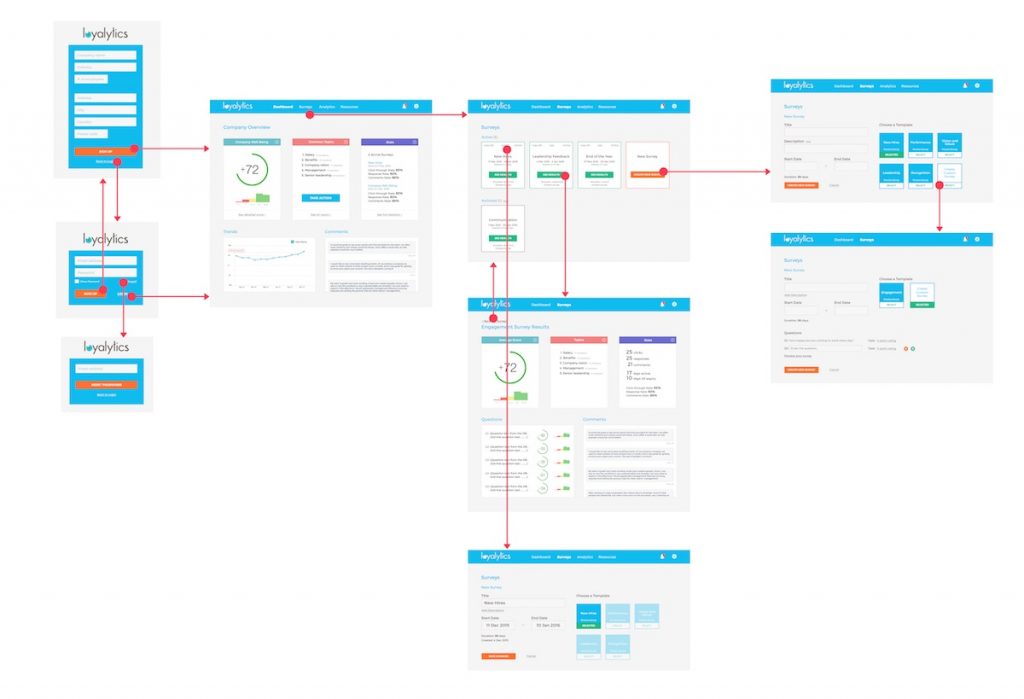 By following user-centred design methodology we launched a product that was simpler, and easier to use. And, most importantly, we designed and built a product that matched the mental model of our target audience, increasing usability and customer satisfaction.
This project is a great example of how talking to your users earlier can save you a ton of effort and time. In this situation, if we had postponed concept testing with real potential users to later, and decided to build a product based on our initial assumptions, we would have wasted time and money.
Lesson: talk to your users as early as you can.
Preview interactive prototype →.